Heads or Tails

2016
Narrative Short, 10 minutes
Press
Interview with Writer/Director/Producer Eva von Schweinitz
- We Are Moving Stories

Interview with Eva von Schweinitz, conducted by Lucie Guillemot, Super Short Film Curator - NYC Independent Film Festival

Festivals

Winner Best Short Film at Los Angeles Diversity Film Festival 2017
Winner Best Costumes NYC Independent Film Festival 2018

Palm Springs International ShortFest 2016
Portland Film Festival 2016
North Carolina Gay and Lesbian Film Festival 2016
Queer Film Fest Weiterstadt 2016 Chennai Rainbow Film Festival 2016 Stuttgarter Filmwinter 2017 POW Fest - Portland Oregon Women's Film Festival 2017
Internationales Frauenfilmfestival Köln|Dortmund 2017 Twister Alley Film Festival 2017 Austin Gay and Lesbian International Film Festival (aGLIFF) 2017 Windy City Film Fest 2017 Out Film CT - Connecticut LGBT Film Festival 2017 KAPOW Intergalactic Film Festival 2017 Los Angeles Diversity Film Festival 2017
Columbus International Film & Animation Festival 2018
NYC Independent Film Festival 2018


About

Lilly convinces her best friend René to join her on a nocturnal trespassing adventure. The two young women break into a zoo and discover an idiosyncratic animal kingdom, where the boundaries between fear and desire begin to disappear. Heads or Tails is a wondrous coming-of-age story that vividly conjurs the heightened feeling of experiencing something for the first time.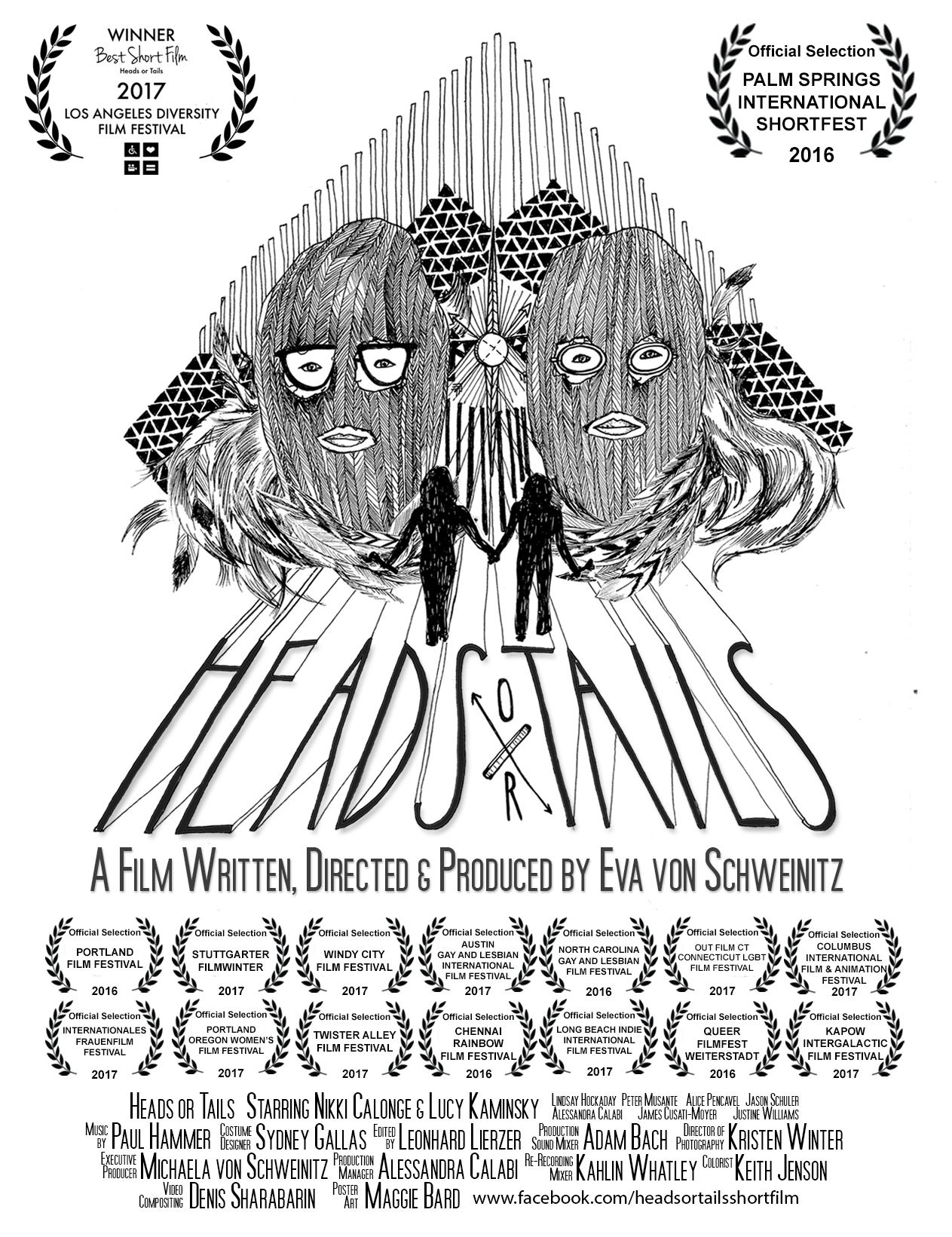 Team

Starring: Nikki Calonge, Lucy Kaminsky
With: Alessandra Calabi, James Cusati-Moyer, Lindsay Hockaday, Peter Musante, Alice Pencavel, Jason Schuler & Justine Williams.
Writer / Director: Eva von Schweinitz
Director of Photography: Kristen Winter
Editor: Leonhard Lierzer
Costume Design: Sydney Gallas
Music: Paul Hammer
Production Manager / Assistant Director: Alessandra Calabi
Executive Producer: Michaela von Schweinitz
Re-Recording Mixer: Kahlin Whatley
Production Sound Mixer: Adam Bach
Colorist: Keith Jenson
Video Compositing: Denis Sharabarin
Title & Poster Design: Maggie Bard
Assistants: Jenna Yonker, Nic Adams
Thanks to our Kickstarter Supporters

Tara Ahmadinejad, Raymond Atterson, Bridget Balodis, Maggi Beckstoffer, Michael Behr, Till Biedermann, Rebeca Bishop, Andrea Brown Murga, Dominik Bühler, Amy Virginia Buchanan, Jonathan Camuzeaux, Lynn Cassaniti, Nina Ditscheid, Marga Eversheim, Alejandro Fajardo, Karina Feliciano Attar, Jim Findlay, Rebecca Foster, Lani Fu, Alice Gruia, Andreas F. Heyden, Marissa Hinds, Sarah Hughes, Jan Hürter, Richard Hutchins, Philippe Intraligi, Mike Iveson, Marvin Jordan, Radek Konopka, Allison LaPlatney, Corina Lierzer, Gottfried Lierzer, Sarah Matusek, Giuliana Moretto, Delia Müller-Wüsten, David Nasser, Mareike Opeña, Arno Pfannschmidt, Cosima Pfannschmidt, Ewald Pfannschmidt, Irene Pfannschmidt, Ben Rubin, Peter von Salis, Gregory Sargeant, Kate Scelsa, Jason Schuler, Hanke von Schweinitz, Nani von Schweinitz, Ulrich von Schweinitz, Gabriel Sedgwick, Ruth Sergel, Scott Shepherd, Chloe Smolarski, J G Solondz, Bruce Steinberg, Rafael Susana, TheRachelo, Bodil Unckel, Ben Williams, Jeff Wood, Stacy Wu, Eleni Zaharopoulos, Marta Zeamanuel!

Additional Thank You

Anthology Film Archives, Anja Berbuir, Jan Bonny, Central Park Conservancy, Georgeen Comerford, Edward Coppola, Alice Gruia, Bernhard Gugsch, Andrea Hintermaier, Tal Marks, Sheena Matheiken, Jenn McCoy, John Mhiripiri, Monihan Monihan, Eva Peskin, Ellery Royston, Victoria Sampson, RB Schlather, Christine Wernke.
My family and friends.
The entire Heads or Tails team for being incredibly dedicated.